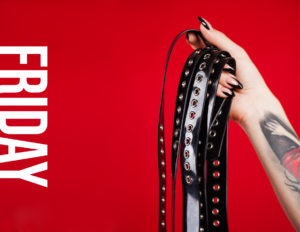 FRIDAY
23. 10. 2020 | 18:00
DISTRIKT7 | Veletržní 61 | Praha 7
The Festival starts with the Friday´s lectures, stands with BDSM stuff and fetish & latex fashion by Czech producers and artists. You can looking forward to some fashion shows also. Dresscode is optional, but All black is minimum.
SATURDAY
24. 10. 2020 | 20:00
DISTRIKT7 | Veletržní 61 | Praha 7
Saturday night is the grand finale of the festival. Teasing and cruel shows, fashion shows and play chambers for your entertainment. There is a mandatory fetish dresscode for the Saturday.
Program
We are preparing the PFW 2020 program. Follow our facebook for updates.
Are you a performer or a model and do you want to be part of the Prague Fetish Weekend program or other events organized by Hellevents?
Sellers
Sellers registration for Friday 23.10.2020 is open.
Gallerie